---
Cambridge Underground 1976 p 40
IRCHESTER QUARRY CAVE - GRADE 1
Entrance SP920660 Length 4.8 metres Explored CUCC 1975
In centre of village take footpath by church, through 2 fields to Irchester quarry. Possible to walk down 100 metres to riqht. Obvious entrance at top of talus slope 50 metres south of path into quarry.
The cave consists of a short narrow passage with a level floor. Daylight can be seen through a crack in the left hand wall, presumably entering through a joint in the quarry face. A small aven leads off shortly after this. The roof then steps down 20 cms, the passage narrows and the ceiling drops until it meets the debris on the floor. There is no draught and little hope of extending the cave.
The cave is situated in Middle Jurassic (Bathonian) lmestones belonging to the Great Oolite Formation. The floor of the cave is developed in the Callirhynchia Beds at the base of the Great Oolite. These are porous biomicritic limestones containing abundant Callirhynchia and Liostrea.
Most of the cave is developed in the succeeding bed, a coarse porous oolite. The roof in places is formed of a muddy biomicrite with a very rubbly appearance.
The cave shows no obvious signs of being man-made, in that it is small, and the quarry postdates the time when man lived in caves. No solutional features are present, as would be expected in such porous rock. The clue to the formation of the cave lies in the presence of the Upper Estuarine Beds, 15.2 metres of illite-kaolinite clay. Movement of this when wet has led to slipping of the quarry face, and has opened up the cave along the two sets of joints prevalent in the area. Thus the cave is analogous to the windypits of the North York Moors. The age of the cave, deduced to be younger than that of the quarry workings, is less than twenty years. Cave paintings (!) suggest a long history of exploration.
Though there is no hope of extending the cave, the quarry has much potential. The face is approximately 1 Km long and the geology favourable to the development of caves persists along the entire length. The caves will not be long, but the total length of passage may be quite respectable. Just the place for Sunday caving, no equipment needed, and twenty pots added to the list.
J. A. Heathcote Queens'.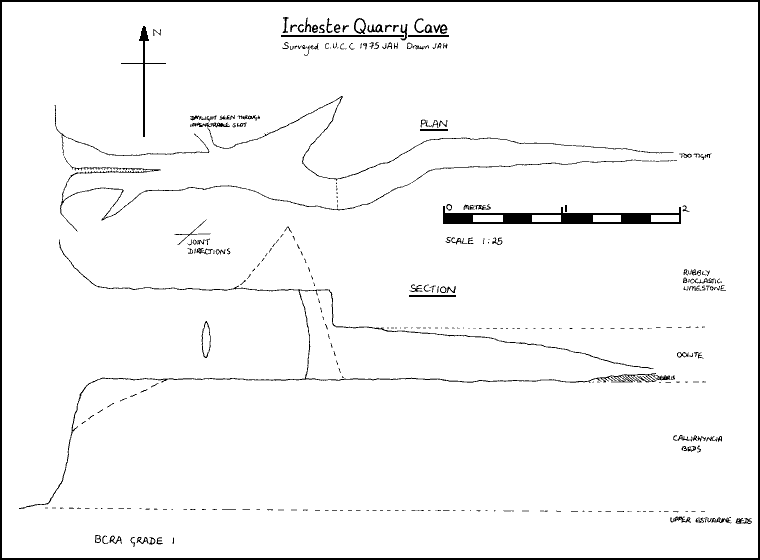 ---