---
Cambridge Underground 1973 pp 33-34
MINOR FINDS
THE CAVERN OF UNPARALLELED SPLENDOUR
Dug out after some inspired guesswork by Jim Abbot (BPC). This was an extremely constricted dig and hopes were high when a black space was sighted at the end of the tiny sand tube. The black space turned out not to be a huge Tunnel leading straight to Ingleborough Cave after all, but a bang-merchant might like to remove some of the boulder-choked aven to get through to another black space.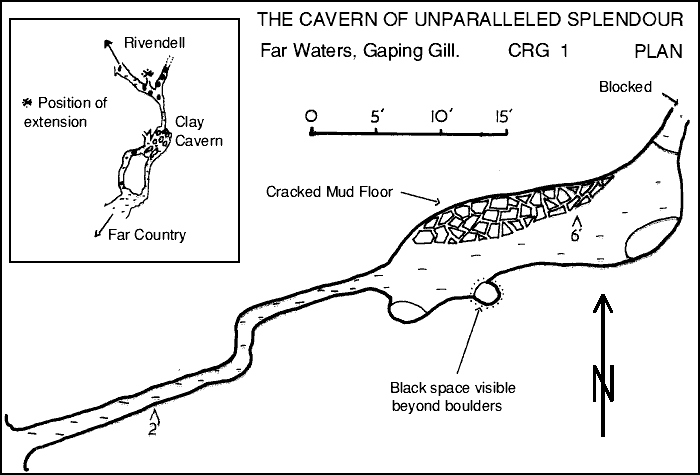 HOWDEN LODGE SINKS, Carlton, Coverdale.
The main sink takes a large stream and is situated in a 50-ft. deep gorge. The water is assumed to resurge at Waterforth, a miniature Malham cove near Carlton, about a mile away. It seems strange that, as far as we can establish, no work has been done here.
The main sink is in good, solid rock, but the water soon seeps away into the floor. This sink is often dry, wnen the water disappears a short way up the beck. Also up the beck are two holes in the bank, which were not investigated because of an excess of dead sheep.
The upper sink is in a tributary beck where a small stream disappears into a mound of farm rubbish. Removal of a bedstead or so by Rod permitted access to a drop and a litter-strewn chamber where the strean sank. A clean, regular passage led for 30 feet or so to daylight and a bit of grovelling produced an exit in another shakehole. A curious feature was the presence of a short length of dry-stone walling inside the cave. We could find no signs of mining, so obviously the rocks were not deads. It is just possible that the passage might have been an outlaw's hide-out but this is unlikely. Just opposite the walling was a half-choked rift, where Nick managed to climb down through boulders for about ten feet until things became rather loose.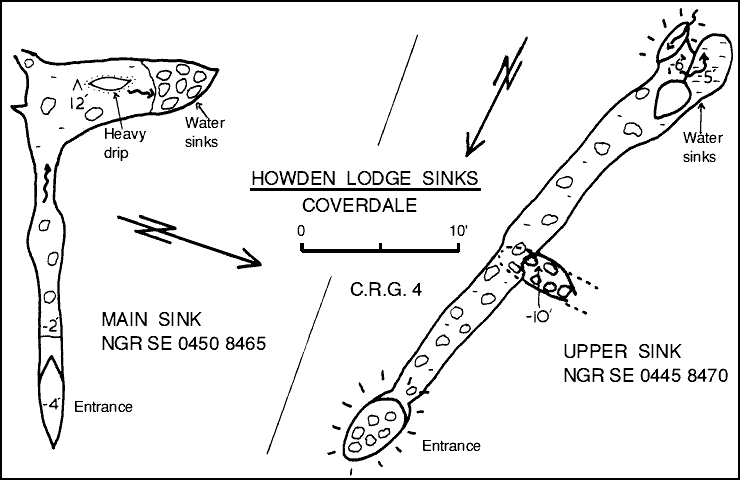 Anyone considering digging here should ask around first, as the resurgence is a public water supply.
---