---
Cambridge Underground 1973 pp 21-22
CUCC 4 AND 5
On those dreadful days when the café at the ski station was shut, we had to create morale-boosting diversions. One such diversion was the gentle art of digging; witness the remarkable excavations performed at CUCC I, a hole discovered by Nick and Jont the previous year. It had an inaccessible pitch beyond a 4" constriction, parallel to a 20m one that we could reach, choked at the bottom. In trying to break through to the pitch, a dedicated few performed a survey, both under and above ground, and started digging, quite unperturbed by the uncompromising nature of the surface and at least 5m to dig. With almost archaeological exactitude, they excavated a 2" wide clint, then broke a borrowed pick-axe, and that was that,
A more fruitful line of research was prospecting. This meant walking with a minimal amount of speleological impedimenta, up a large, dry valley ascending east of Arette la Pierre St. Martin, to a limestone plateau. This valley is a wide, shallow trough whose floor is viciously dissected into little hillocks and outcrops by numerous small ravines, the whole being peppered with shakeholes and generously wooded. This terrain, especially when misty, tends to make surface work difficult. Although virgin, the area must be desperately rich in caves, which could add a new dimension to the hydrology of the region if they drain towards Arette rather than parallel to the Pierre.
Our original objective was to relocate CUCC 3. This was a yawning chasm found by Nick and Jont the previous year, down which, rumour has it, they had thrown stones and returned the next day to hear them crash to the bottom. This not withstanding, we failed to find the hole, so we made up for it by adding to our CUCC sequence Nos. 4 and 5, besides finding lots of smaller things. CUCC 4, was THE find, opening in the smooth, un-wooded side of a little valley. Bob, Julian, Mark and myself went to investigate. Following the tradition of Casteret, we wafted a lighted spill from "Le Monde" down the shaft (honestly!). The result was most impressive and subsequently, 35m of ladder, then me, were fed down the pitch. At first, a snow plug seemed to be blocking the shaft, but once down I could see that the snow was sitting on the floor. There was a way on under a flake in one wall, a grovel leading to a confused chamber. At this point I went back for reinforcements and Mark (the Zeppelin) came down. It didn't take us long to find that, despite many rifts and side-rifts, nothing went, everything being choked with small stones and muck. On a subsequent return Mark made a string anc compass survey of the cave reproduced here. It trends under a group of large shakeholes in the valley bottom, which correspond to avens in the rift complex. The cave had good potential, and one feels that it could well go if one can dig through the initial debris fallen from those avens.
To make it possible to find the place again, we painted a clear trail (white marks) from the forestry path running up the valley (designated by yellow marks). Our other find CUCC 5 is reached by prescribed compass bearings from CUCC 4. A rift descends in stages about 15m, and is estimated to descend a further 30m. Lack of time prevented us from following it down.
CUCC 4 is now distinguished by having in it the greatest density of carbide lights per unit length, with possibly the exception of the bottom of the Eastwater bedding traverse. In one particularly exciting cross-rift, in the course of two visits, I lost two lights and a helmet down an impassable 6" letter box; which all went to refute one of my cherished beliefs: possibly the prime source of my speleological spirit; that is, that it is cheaper to go caving than stay in the pub!
WILLIAM TAYLOR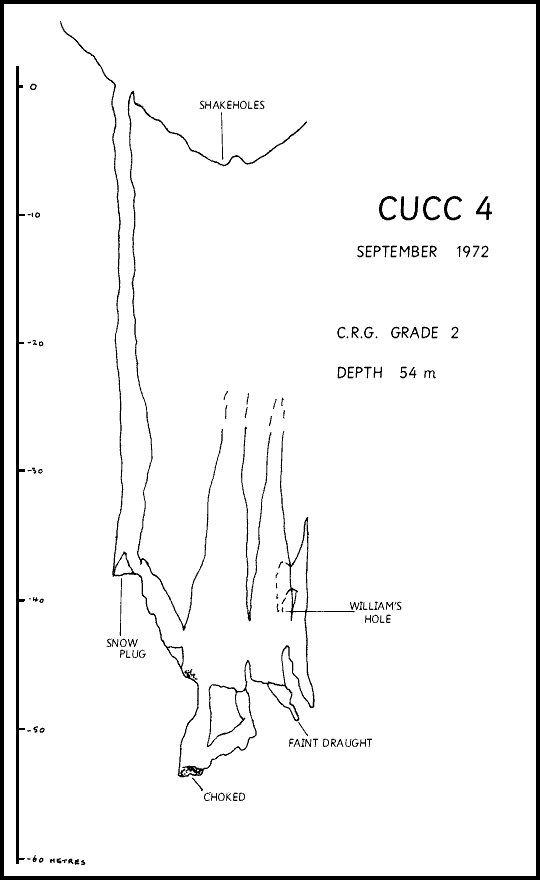 ---