Cambridge University Caving Club
Newsletter --- 28 October 1997
Last week
Thursday's lunch was memorable for Connor's destruction of Paul's toaster. No crumpet for me. The lesson is, don't stick a steel knife in the toaster while power is on. Unfortunately Connor was unharmed.

Thursday's rope washing saw several old lags back at Churchill plus Alexei, Earl (the tickle master) and myself. We took over the laundry and spread mud and water everywhere, but it was OK 'cause we had a 'wet floor' sign. Julian showed us afraid rope which we cut despite a discussion on the economics of such action. Beware of afraid ropes. Earl fed us with lots of garlic bread, we made a mess then left.

It was a bit chillier on Saturday at the ladder practice ... but at least the sun was shining ... and no dog ate my lunch. Sunday: The end of daylight-saving meant an extra hour sleep-in, but also a dark get-out at the end of the trip. There were heaps of people in P8 this time and we had to wait for 45mins+ at the top of the pitch. Not good --- but it didn't seem to dampen anyone's enthusiasm --- the waterfall did that. We actually had a great trip in the end and I took some photos. We need more posseurs on these trips!

Tony's lot managed to avoid the big delay at the top of the pitch (we should have kept the van keys). Everyone went to the bottom and nearly everyone was silly enough to do the crawl ... and some even wanted to go caving again! Thanks to Sean for driving there and back! For some reason I feel completely stuffed today.

Cave people: Stephen Leech, Tim Barnard, Janet Noneley, Sam, Eugene Halligan, Claire Hilliard, Fliss Horsfield, Tony, Sean and me.
Yorks I
Wow! The first real trip of the year ... where all that driving is actually worthwhile.

The plan is to leave on Friday night ... our chauffer will pick you up and wisk you away to sunny (I hope) Yorkshire. We will sample local cuisine along the way before arriving at the luxurious YSS caving hut (Ok, it could do with some interior decorating and it's not exactly furnished from Habitat ... but it has hot showers, heating and gas cooking). It also has a pub 100m from the door which serves food and refreshments.

There will be trips suitable for everyone Novices and old lags alike. (Yes, there are caves easier than P8). We'll supply the gear! There will probably be some walking too.

Also: Experience cave culture ... a caving breakfast ... Bernie's cafe ... Inglesport (Neil and Paul say we have some money to spend! We might even buy some size 13 wellies ... and other novice gear). It'll be a chance to get some comforts at least --- like wet suit booties, knee pads and some safety gear like a camera survival bag.

Permits We have permits for Lancaster, Stream Passage, County and Aygill.

Old lags welcome! Can we do Lancs on string?.. but everyone needs gear then I guess. Cost All this and more for 20 pounds.

Food We'll organise food groups and the leaders will hit Sainsburys before leaving town - typically 1-2 pounds covers communal food. Bring something yummy for yourself and/or the president too. Specify vegetarian (or aversion to staple elements of the caving diet like beans, bacon 'n' eggs etc). Cavers who can cook are welcome.

Extras

Bring a sleeping bag --- email me if you haven't got one. Bring some walking shoes/boots and waterproof clothing (leggings + jacket) --- I might be persuaded to go walking on Sunday ... when faced with a wet furry suit!

Organisation (?!) - How do I get to go?

(1) Give money to Neil now!
(2) Give me or Paul money at Thursday's lunch (anytime).
(3) Send cheque "CUCC meets" by UMS (university mail service) to "Jonathan Carr, Fallside Lab, Dept. Engineering" and email me. We really need some commitment on this one, so I (or Neil - our treasurer) need to see some $$ to cater for you. Thanks, Jonathan. (email: jccc@eng.cam.ac.uk)
Caving hints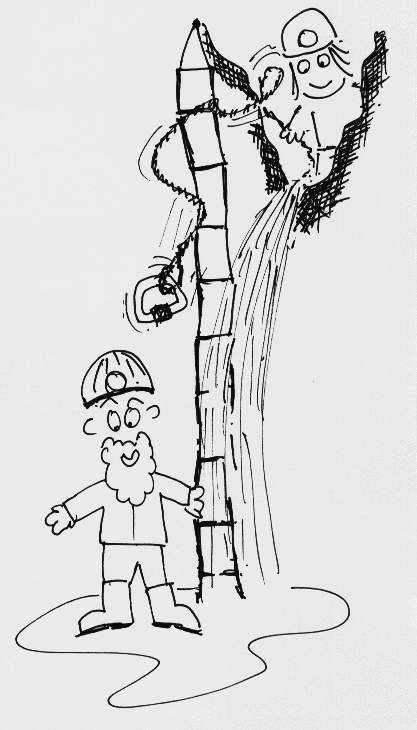 The happy caver doesn't stand under the pitch.

---
J.C.C. Carr
Wednesday October 29 14:23:54 GMT 1997
Previous newsletters
Forthcoming meets
CUCC Contacts
Novice Guide
Austria expeditions
Back to CUCC top page